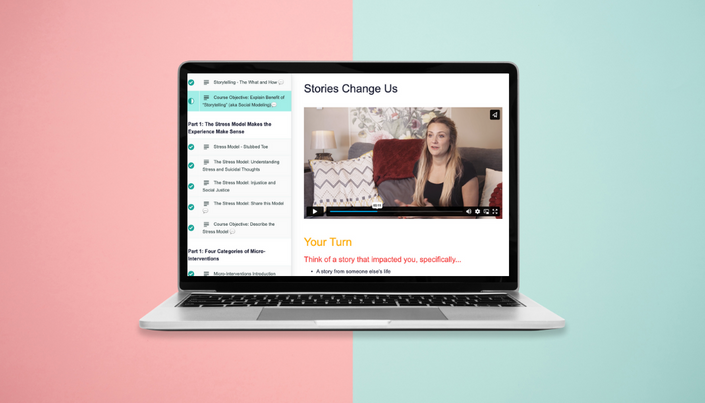 Community Course: Making it Matter with Micro-Interventions
Building Resilient Communities with DBT Skills and Micro-Interventions
Enroll Now
What Is This Course?
Small Steps to Big Changes: In this 2-hour on-demand course, we'll practice simple ways to manage common community problems such as loneliness, stress, relationships, and mental health and substance-use struggles (including suicidal thoughts). You'll learn how to help yourself and others prepare for, survive and grow through challenging times.

---
Training Schedule & Requirements
The course takes at minimum a week to complete and can not be completed in one sitting. This is so you have time to practice the Micro-Interventions.
"Public" comments
Practice in your daily life
Quizzes & reading emails
Feedback on course
When you finish all steps, you will receive a Course Certificate.

---
Who Should Join?
This course is for people who want to make an impact in their community.
If you've struggled with mental health or substance use, or if you're a friend or family member of someone who has, you're also welcome to take this course. It's also great for anyone who wants to learn a few coping tools called DBT Skills.
Healthcare service providers can take this course or the more clinically oriented version found here.
---
Objectives
At the end of this course, participants will be able to:
Name the Four Types of Micro-Interventions
Tell 3 DBT Skills apart
Explain why "storytelling" is important
Use Do It Now to learn and teach new ways to cope
Remember what makes up a Caring Contacts
Describe the Stress Model
Be better at balancing hope and change (Linking Statements)
Teach the Stop, Drop, and Roll for emotional fires
---
Become an Ambassador
Complete of this course well, and you have done the first step in becoming a NowMattersNow.org Ambassador. You absolutely do not have to want to become an Ambassador to take the course. Learn more about Ambassadors here.
---
Quality Improvement and Research
As part of this course your data will be used to make course improvements. Your de-identified data may be used for research purposes (i.e. to evaluate the impact of the training). Data Examples: surveys results, engagement and participation descriptives, and demographic information
---
Best Online Course Experience

Please use Google Chrome or Mozilla Firefox for best course experience. See FAQ for more info.
Course Curriculum
Part 1: What Does Storytelling Have to Do With Recovery?
Available in days
days after you enroll
Part 1: The Stress Model Makes the Experience Make Sense
Available in days
days after you enroll
Frequently Asked Questions
Login Tips: Bookmark Course
Save or bookmark this link so you can easily return to the course: https://training.ursulawhiteside.org/p/micro-interventions/ Also, this is a link to the lecture on Technology Challenges: https://training.ursulawhiteside.org/courses/micro-interventions/lectures/14820994
Login Tips: Get logged out, but already registered?
Does it seem like you need to make a new account? This can happen if you use a new browser or computer. Don't re-register. Select "Login" or "My Courses" in the top right corner.
Login Tip: I logged in, but but now I get an Orange Button saying "Log Into Teachable". What do I do?
Weird, I know. If you login and then are asked to "Log Into Teachable", select "No Thanks, Go Back to School" under the Orange Button. Ignore "Log In with School Account" and "Create an Account" below that.
Login Tip: Forget password? Request it to be reset.
The email will be titled "Reset Password Instructions" (check your junk mail if you can't find it).
Missing Lectures: Lectures Not Visible?
Some lectures may not yet be available (Part 2, Part 3). Return when indicated days have elapsed. After Course Registration Part 1 is available immediately Part 2 is available 3 days later Part 3 is available 6 days after registration. This allows time for Practice Assignments.
Tech Tip: I'm hung up and can't progress (or can't see a quiz or video), but it's not because Part 2 or 3 are not yet available (see above).
The online course platform doesn't love Internet Explorer. It does love Chrome. One in 75 people get trapped in the course, usually around a quiz. Restart computer and internet browser and log in. If this doesn't work try again the next day and/or install Chrome or Firefox. Chrome internet browser from Google works 100%.
Your Instructor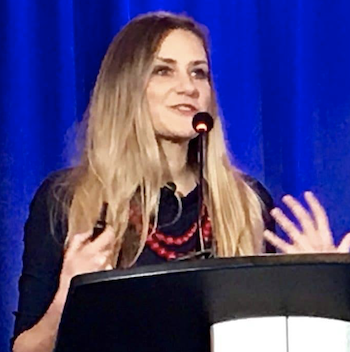 Dr. Ursula Whiteside is a licensed clinical psychologist, CEO of NowMattersNow.org and Clinical Faculty at the University of Washington. As a researcher, she has been awarded grants from the National Institute of Mental Health (NIMH) and the American Foundation for Suicide Prevention. NowMattersNow.org is a website she developed with colleagues that includes skills for managing suicidal thoughts based on Dialectical Behavior Therapy (DBT) and paired with Lived Experience stories.
Clinically, she began her training with Dr. Marsha Linehan in 1999 and later served as a DBT-adherent research therapist on a NIMH-funded clinical trial led by Dr. Linehan. Dr. Whiteside is a group and individual certified DBT clinician. Now, she treats high-risk suicidal clients in her small private practice in Seattle using DBT and caring contacts.
Dr. Whiteside is national faculty for the Zero Suicide initiative, a practical approach to suicide prevention in health care and behavioral healthcare systems. This program was recently described by NPR on a segment titled "What Happens If You Try to Prevent Every Single Suicide?" Dr. Whiteside serves on the faculty of the National Action Alliance Zero Suicide Academy. She is also a founding board member of United Suicide Survivors International.
As a person with Lived Experience, she strives to decrease the gap between "us and them" and to ensure that the voices of those who have been there are included in all relevant conversations: nothing about us without us.